New flagship for media studies?
Pixel is our competition proposal for the new media building for the University College of Volda. Statsbygg has organised the competition as a total contract with proposed solutions, and the winner will be responsible for completion. The project is developed by Oslo Works in collaboration with Hent, MAD Arkitekter, SLA og VOID. The winner will be announced during the autumn of 2018.

The new media building will be a production house and a content provider. Here, newspapers, radio, tv and animated films will be made, just like in a professional media house. Additionally there will be study and meeting rooms, that provide space for evaluation, planning, editing and producing content.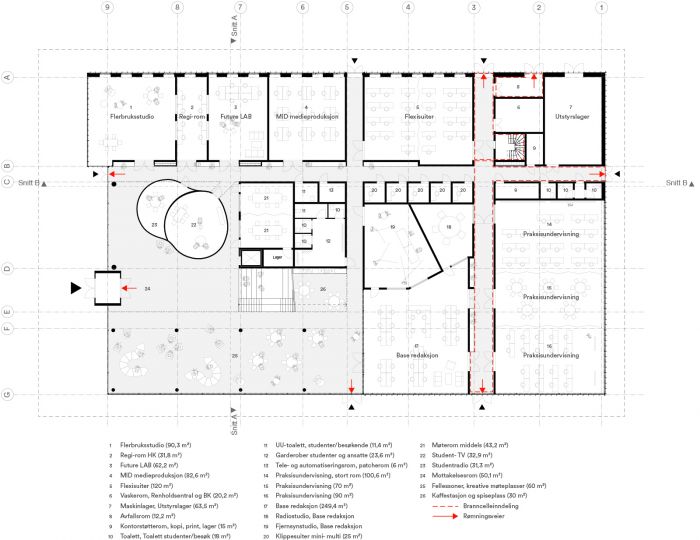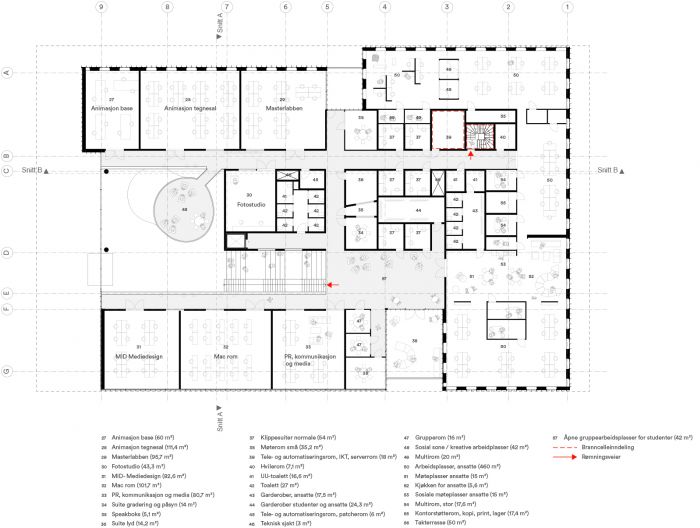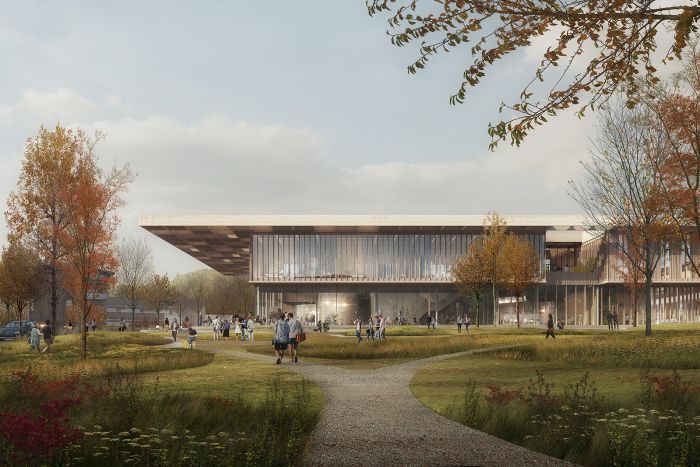 The idea for the building originates from the vision of the University of Volda; Knowledge for the future. The core values are diversity, creativity, activity and involvement.

Pixel is situated between Berte Kanutte and Hans Strøm in the axis of the campus. The building is oriented so that it is placed parallelly with Hans Strøm, with the main entrance towards the new Studentplassen and Berte Kanutte.
Pixel is organised beneath one continuous roof and has a clear logic with open and airy shared spaces. The programmed areas are contained within clearly defined spaces in terms of volume and appearance. The roof indicates that this is a media building and that it is the new landmark for the campus. The facades have a transparent appearance and it is therefore easy to see the activities going on from the outside. The editorial department, the heart of the building, is now located in the center of the ground floor. Here, one will see all of the activities going on from the inside and the outside of the building.
The lighting concept is a central element and is found in the gaps of the roof construction. The lighting will create a beautiful and dynamic light installation that invites the public to interact with the building from the outside as well the inside. One of the most essential components of digital media, the pixel, is portrayed in the concept of the roof. Each of the square openings between the roof beams is illuminated to collectively form the appearance one large, low-resolution screen.
Integrated and addressed LED-lighting in each roof beam allows one to individually control each light diode. This allows one to centrally control what the installation will look like, which gives the opportunity to customise the roof for special occasions. Creative input from students can for example determine the appearance of the roof (such as simple animations, or visions from the students projects.)
Sensory registrations of peoples movements underneath the roof can also be depicted (in moments of little activity) to release pulses of light that follow their walk through the building. This creates a visual dialogue between the interior and exterior of the building, an abstract visual of the dialogue between the media school and the society it is a part of.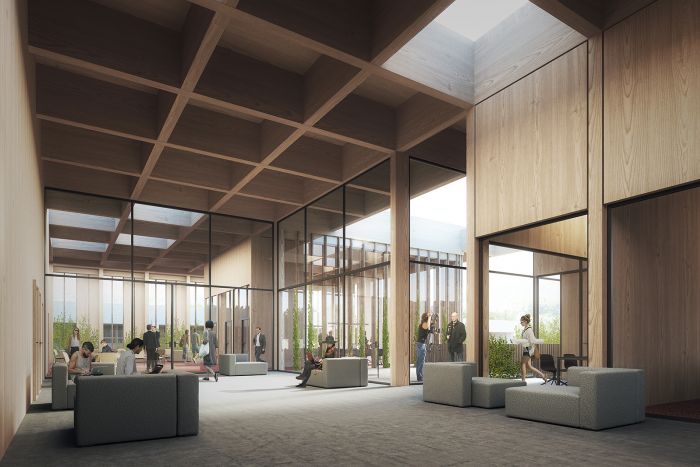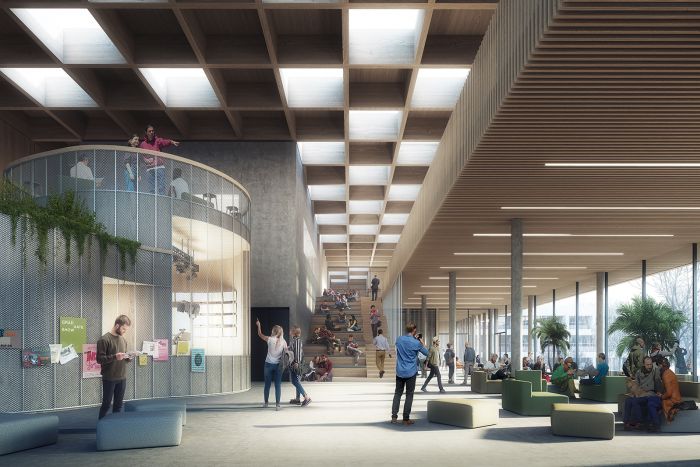 Project name: Pixel
Typology: Campus development, educational
Location: Volda, Norway
Year: 2018
Status: Competition proposal
Size: 4,100 m2
Client: Statsbygg
Contractor: Hent
Collaborators: MAD Arkitekter, SLA, VOID
Render: Igor Brożyna